Questions to Ask Before Renting a Townhouse
Rent or own? For the past few decades, the number of people who rent a house, rather than own one, has gone up and down. The percentage of rented households dipped to 31% in 2006 but climbed back to more than 36% in 2016.
Although renting a home might not be as permanent a decision as buying one, it is still a big decision to make. You want to know as much as possible about the property and about what you can expect when living in the home before you sign the lease. If you've found a townhouse that looks like it's an excellent fit for your household, be sure to ask a few questions before you sign, so you can avoid any surprises in the months ahead.
From making sure you fully understand the terms of the lease to having a good idea of what the house includes and what you're allowed to bring to the house, here's our checklist of questions to ask the leasing agent before renting a townhome.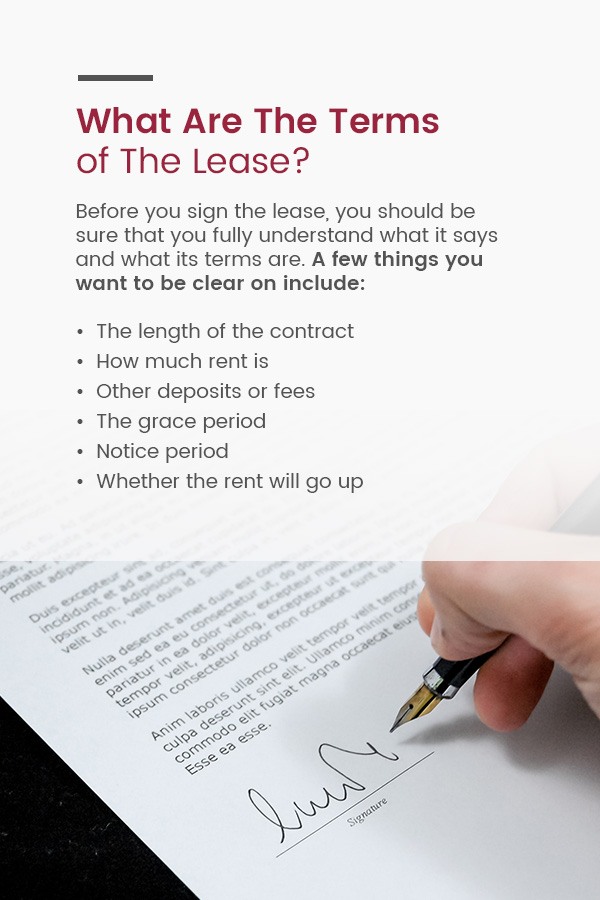 1. What Are The Terms of The Lease?
Before you can move into your rental house, you need to sign the lease. And before you sign the lease, you should be sure that you fully understand what it says and what its terms are. Leases tend to be written in legal language, which can be a bit tricky to decipher. It's worth discussing with the landlord or property manager what the lease says and clarifying the terms of the lease so you know exactly what you're signing. A few things you want to be clear on include:
The length of the contract:

How long is the lease for, and what are your move-in and move-out dates?

How much rent is:

The lease should state your monthly rent, as well as when it is due.

Other deposits or fees:

If you have to put down a security deposit, the lease should state the security deposit amount. If you need to pay additional fees, the lease should explain what they are and how much they are.

The grace period:

Your rent is going to be due by a specific date each month, such as the first of the month. Many leasing agents offer a grace period of several days. Your lease should let you know if there's a grace period, how long it is, and what the late fee is if you send in payment after the grace period.

Notice period:

If you get to the end of the lease's term, and you aren't interested in staying in the house, when do you have to let your property manager know? The lease should clearly state how much notice you need to give before the end of the term.
2. What Appliances and Amenities Are Included?
It's also important to understand what appliances come with the house and what amenities are available. Although many rental houses do include appliances such as an oven, refrigerator, or dishwasher, not all do. It's up to you to confirm with the property management company or landlord what appliances they offer. It's also a good idea to find out what will happen if an appliance breaks.
If the house doesn't come with appliances such as a clothes washer and dryer, you might want to ask if laundry facilities are available nearby or if you're allowed to bring your own machines into the house. In some cases, a shared laundry room might available somewhere in the development, or there might be a public laundromat close by.
Rental houses can vary when it comes to the amenities they offer. Garbage pickup and recycling pickup are included in some rentals, but not all. If your lease doesn't include trash or recycling, you'll want to ask what the process is for arranging for pickup.

3. What Utilities Are Included in the Rent?
Water, sewer, heat, electricity — you need these utilities to live comfortably in your house. Depending on the terms of your lease, they might be utilities you are responsible for paying for. Paying for your utilities can add to your monthly costs considerably, so it's essential to ask the property management company what, if any, utilities are included in your monthly rent. You want to avoid the surprise of having a gas bill, water bill, or electricity bill add hundreds of dollars to your monthly living costs.
Along with finding out what utilities you are responsible for and which ones are part of your monthly rent, it's also a good idea to find out how you can go about arranging to pay for your utilities.
4. How Do I Pay Rent?
The townhouse community might offer limited ways to pay your rent. Some still only accept physical payments, such as a check, each month. You might want to look for a rental townhouse that offers multiple ways to pay, for your convenience and peace of mind. Online payments are becoming more and more common and mean that you no longer need to make a special trip to pay your rent or need to hunt around for stamps and an envelope. Property Management, Inc. gives our tenants the option to pay online, which simplifies the payment process. Along with paying online, you can confirm that you made a payment and can review your overall payment history.

5. What Is the Maintenance Policy?
If something in the house breaks during your rental period, who is responsible for repairing it? What is the process for putting in maintenance requests? You want to know the answer to both of these questions before you sign a lease and move into a house.
When it comes to maintenance, you might feel better knowing that the rental company offers around-the-clock service. Before you sign the lease, ask the property manager if there is an emergency number or after hours number to call if there's an issue at your house during the middle of the night or on weekends. It's also a good idea to ask about general maintenance issues. For example, if you have a problem with a sink that doesn't need immediate attention, can you put in a maintenance request online or do you need to call for assistance?

6. What Is the Neighborhood Like?
When looking for a new house to live in, you want to look beyond the boundaries of the home's four walls and beyond the property line. It's also a good idea to understand what the surrounding neighborhood is like and what you can expect when living there.
Think about what you want in your neighborhood and ask the leasing agent if those features are close by. If you have children, you might want a playground or park within walking distance. If you work from home, you might want to be able to escape to a quiet coffee shop or library for a change of scenery from time to time.
If you're not shy, you might want to ask people who already live in the area what they think about it. Your landlord might not be able to give you an as in-depth or detailed idea of the neighborhood as people who already live there. Asking your potential future neighbors about the area helps you make a decision about renting a house, and it can also help to break the ice and make it easier to make friends with people once you move in.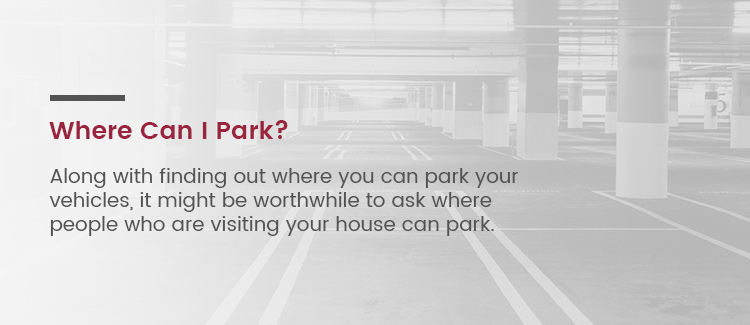 7. Where Can I Park?
If you have a vehicle, one thing you might be particularly interested in learning more about is where you park it each night. It might be that the house you're renting has an attached garage or driveway and you can pull up practically to your front door when parking each day. In some cases, there might be a parking lot outside of the house, and you might be allowed to use one or two spots in front of your home.
If there isn't a driveway or parking lot attached to the property, ask if you'll need to get a permit to park on the street or if there are times when you won't be allowed to park your car on the road. Along with finding out where you can park your vehicles, it might be worthwhile to ask where people who are visiting your house can park. Some townhome communities have designated visitor parking areas, for instance. If that's the case, you'll want to let any houseguests know where they can leave their cars when visiting you.

8. What's the Security Deposit? Is It Refundable?
It's a good idea to make sure you're clear on how much you need to pay as a deposit and what you can expect when the lease is over. The security deposit is meant to be just that — security in case you cause any damage to the house while living there.

9. Can I Renew the Lease, or Does It Go Month-to-Month?
If you like the townhouse, it can be worth finding out what happens once your original lease is over. Some property managers will send you a new lease, which might be for another year or longer. When you renew the lease, the landlord might raise the rent or make other adjustments to the terms. If you don't agree to the changes, you can decide not to renew and to move somewhere else.
Another common situation is for a one-year lease to convert to a month-to-month agreement if the landlord doesn't prepare or send you a new lease. A month-to-month lease might have some benefits to you compared to a renewed lease or a lease for another full year. If you think you might need to move at some point during the next 12 months, you can get out of a month-to-month lease by giving the landlord 30 or 60 days notice. If you've agreed to another 12-month or longer lease term, you'll need to break the lease to get out of it.
Breaking the lease can be expensive, as you will most likely need to keep paying rent on the house until the landlord finds a new tenant. When asking your landlord about what happens at the end of the lease term, be sure to carefully consider your needs before agreeing to a renewable lease or a month-to-month option.

10. Are Pets Allowed?
Not every rental is pet-friendly, so if you have a dog, cat, bird, or another animal companion, it's a good idea to ask about the rental's pet policy sooner rather than later.
Some landlords or property managers might be more flexible about pets than others. Sometimes a landlord will have a strict no-pets policy. But many will take things on a case by case basis. They might not want you to move in with a 150-pound St. Bernard but will accept a 10-pound cat or a 20-pound dog. Many communities also limit the number of pets in a house, so if you have more than one animal companion, it's crucial to find out how many you can have in your rental.
If you do bring pets to your rental, be prepared to pay a bit more for the privilege. While not every community charges a pet deposit or pet rent, many do. The extra charge for pets might take the form of a refundable deposit, a one-time, upfront fee, or additional monthly payment in the form of pet rent.
Find Your Next Rental House With Property Management, Inc.
Are you looking for a townhouse to rent in Pennsylvania? Property Management, Inc. has rental opportunities in townhome and apartment communities across the state. Take a look at our available listings and get in touch today if you see a home you'd like to tour.