One of the most important decisions you'll make in life is where to live. Whether you're moving into your first apartment or relocating to be nearer to family, a job, or school, it's a good idea to get the full story on an apartment before you decide to rent it. Asking lots of questions during your search and before you sign a lease may help you avoid any surprises and can ensure that you rent the apartment that is perfect for you. Here's our checklist of the most important questions to ask when renting an apartment.
1. What Is the Lease Term?
When you begin your search for an apartment, one of the first and most important questions to ask a landlord is how long the lease is. A one-year or 12-month lease might be standard, but some apartment communities offer shorter or longer options.
One thing to consider when it comes to the length of the lease is whether or not the apartment community changes the amount of rent it charges based on the lease term. Some communities charge a higher monthly rent for leases that are for less than 12 months.
Along with finding out how long the term of the lease is, it's also a good idea to find out what will happen if you have to break the lease or leave the apartment early. In many cases, moving out before the end of the lease doesn't mean you no longer have to pay rent. Usually, you'll be responsible for the rent on the apartment until the end of the lease term.
2. What Is the Application Process Like?
Although some landlords are more lenient than others when it comes to the process of applying for an apartment, you can usually expect to fill out an application and provide the landlord or property management company with your personal information. If you have found a place you're interested in renting, you want to find out what sort of process the company uses to screen applicants and what information it will be reviewing.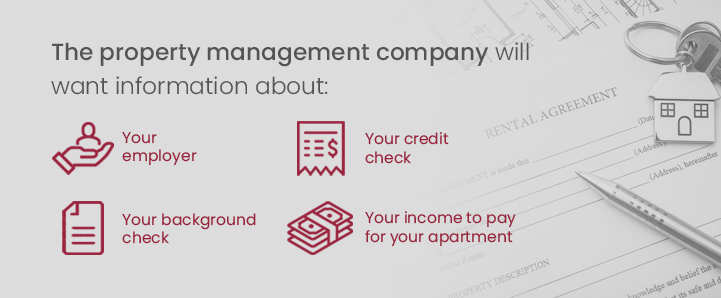 Generally speaking, the property management company will want information about your employer and a list of references, such as past landlords. A credit check and a background check are often part of the application process, too. The property management company will also want to verify your income or that you have the funds to pay for your apartment. If your income isn't high enough, you might need to find a co-signer to apply for the apartment with you.
Another thing to find out when asking about the application process is whether or not you'll have to pay for it. Fees vary based on the company you're considering renting from.
3. How Much Is the Deposit?
When you rent an apartment, you typically need to put down a security deposit. Your security deposit isn't the same thing as your rent, although it's often the same amount as a month's rent. The deposit is meant to give the landlord some protection in case you damage the apartment or fall behind on paying rent.
Since you need to pay the security deposit up front, before you move into the apartment, it's a good idea to ask how much it will be before you get to the point where you're seriously considering signing a lease. You don't want to move through the application process and get accepted only to find out that you don't have enough money to move into the apartment.
4. How Much of the Deposit Is Refundable?
Since your security deposit isn't rent, it remains yours. That means that the landlord should return your deposit to you when the lease is up, and you've decided to move.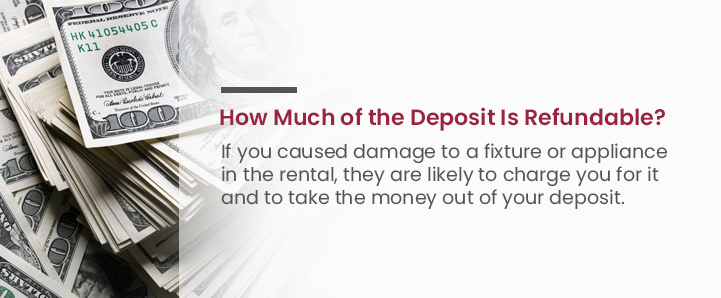 There are some reasons why your landlord might not return the full amount of your security deposit to you, though. Before you sign the lease, it's a good idea to ask what factors can affect your security deposit. Landlords can't charge you for things like normal wear and tear on the apartment, but if you caused damage to a fixture or appliance in the rental, they are likely to charge you for it and to take the money out of your deposit.
5. How Do You Pay?
The process of paying rent varies from property management company to property management company and from landlord to landlord. Some companies expect a check mailed to them by the first of the month. Others, such as Property Management, Inc., accept online payments. Paying your rent online can be much more convenient than sending in a physical check. You don't need to make sure you have stamps, and you don't need to worry about having your payment get lost in the mail or stolen. Plus, the process is quick and easy.
Along with finding out what payment methods the company or landlord accepts, it's also a good idea to ask about due dates. The first of the month is an expected due date, but your rent date might be different if you move in in the middle of the month.
While you want to get in the habit of paying on time or before the due date, you might also want to ask if a grace period is available. Your landlord might give you a few days to pay after the due date each month before tacking on a late fee.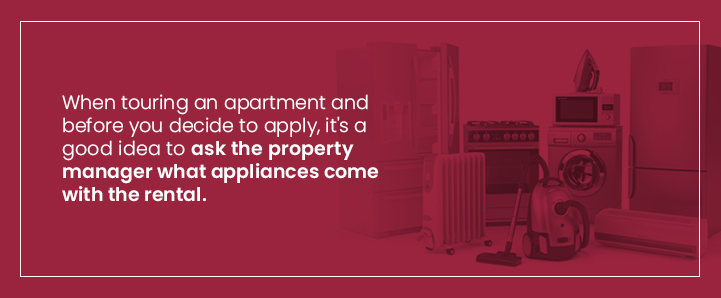 6. What Appliances Are Included?
You probably can't imagine living in an apartment that doesn't have an oven, a dishwasher, or a refrigerator. If you've ever lived through a Pennsylvania summer, then you know that air conditioning is a must in some parts of the state.
Just because appliances like a refrigerator, oven, or air conditioner make your life more comfortable doesn't mean your apartment has to come with them. It's common for rental apartments to include those things, as doing so makes for a more attractive rental. But you don't want to assume that your new apartment is going to come with every single appliance you found in your previous location.
When touring an apartment and before you decide to apply, it's a good idea to ask the property manager what appliances come with the rental. If it turns out that you need to provide or purchase items you consider must-haves, you might decide to continue your search or rent somewhere else.
7. What Amenities Are On-Site?
In some cases, amenities available on the property or in the apartment building can make a ho-hum apartment much more attractive. When you're touring a rental, it's worth asking the property manager what amenities come with the rental. Some properties offer a gym or fitness center, a lounge or rec room, and a pool. Other common amenities may include a walking trail, laundry facilities, community room, or clubhouse.
If you're renting an apartment in a building or at a property that is adjacent to another rental property, you might be able to take advantage of the amenities available at the nearby rental property, too.
Another thing to find out when asking about available amenities is if there is an additional fee to use them. Some rental communities offer a pool or a gym, but charge residents an extra fee on top of their rent to get access to certain features.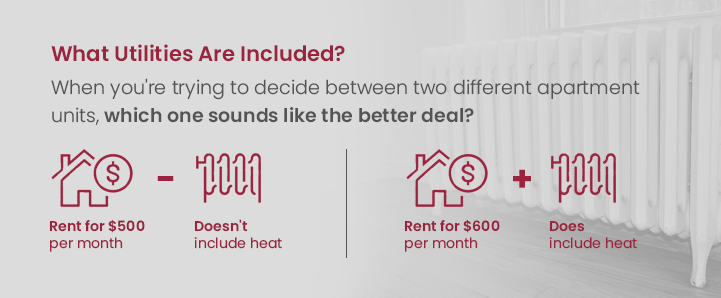 8. What Utilities Are Included?
When you're trying to decide between two different apartment units, which one sounds like the better deal? An apartment that rents for $800 per month and doesn't include heat, or an apartment that costs $900 per month and does include heat? Depending on the size of the apartment and how toasty warm you like to keep your home, the $900 per month apartment might be the better bargain.
As you tour apartments and speak to property managers, it's a good idea to ask what utilities, if any, are included in the monthly rent. Some places may include water, sewer and trash pickup in the rent, and some may even offer heat or air conditioning.
If a rental doesn't include certain utilities, such as heat or electricity, you can ask the property manager what the average or typical monthly cost of those utilities is. The exact cost will vary based on usage and apartment size, but having a ballpark figure to work with will help you determine if an apartment's overall price fits with your budget.
9. How Long Does It Take Maintenance Issues to Be Resolved?
When something goes wrong at your apartment, you don't want to have to wait days for the issue to be fixed. Before you sign a lease and move in, you want to ask the property manager how long it takes to resolve maintenance issues or to make repairs.
Some of the things you want to find out include whether the maintenance team responds to issues right away, whether someone is available on weekends, and whether someone is available at all hours of the day.
Along with finding out how long you can expect to wait if your heater breaks or if there's a leaky pipe in your bathroom, it's a good idea to find out what the process is for putting in a maintenance request. Is there a number to call or can you submit a request online? PMI offers tenants the option of putting in maintenance requests online. When you move into the property, you'll also be given a 24/7 phone number to call in an emergency.
10. What Is Your Parking Policy?
If you have a car, where will you put it when you're at your apartment? Some apartment communities offer off-street parking, which takes the hassle out of finding a spot to park every day and also eliminates the worry that you'll get a parking ticket if you don't move your vehicle in time.
Along with finding out if a parking lot or garage is available, it's also worthwhile to learn if parking is included in your rent or if you need to purchase a separate parking pass for your vehicle. If you are going to have visitors over, where will they be allowed to park their cars and will you need a separate visitor's pass for them? Is there a parking lot specifically for visitors?
12. Am I Allowed to Hang Items on The Wall?
Once you move into an apartment, you might be interested in hanging up photos of your loved ones or prints and posters. You might also be interested in hanging up shelving to give yourself a bit more storage space or in painting the walls to put your stamp on things.
Before you make any changes to the apartment, no matter how small, check in with the landlord or property manager and ask about the rules. In some cases, your lease might clearly state what you can and can't do to the walls and fixtures in the apartment. Some buildings are more lenient than others and will let you paint or put in holes in the walls to hang pictures, provided you restore everything in the apartment to its original condition before you leave.
Other apartment communities are stricter and don't allow any holes in the wall or new paint colors. You might be allowed to hang items using removable adhesive, though.
13. Do You Allow Pets?
You may not be looking for a home only for yourself. If you have a furry, four-legged companion or two, it's vital that you confirm that the rental allows pets before you sign the lease.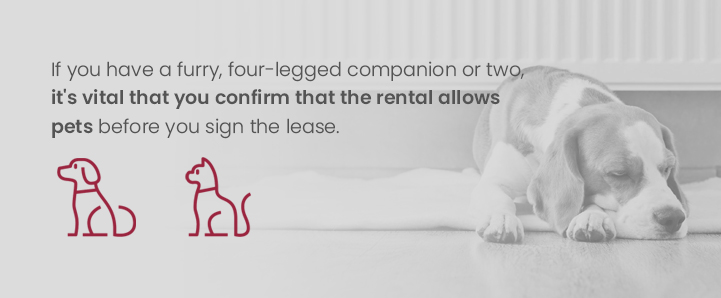 Asking about pets before you move in also ensures that you and the landlord are on the same page. If you don't mention your dog or cat, and the lease doesn't specifically say anything about pets, there's the risk of some confusion come move-in day or if the landlord happens to drop by and finds evidence of a pet when no pet was ever mentioned.
Another reason why it's worthwhile to ask about pets is that some apartments have pet restrictions. A quiet, fuss-free cat might be allowed, but a loud dog who barks a lot might not be welcome. Some places allow certain types of dogs, but not others. Other places are fine with dogs but don't allow cats. Whatever you do, if you have a pet, you want to make sure that your specific animal companion is allowed to live in the apartment.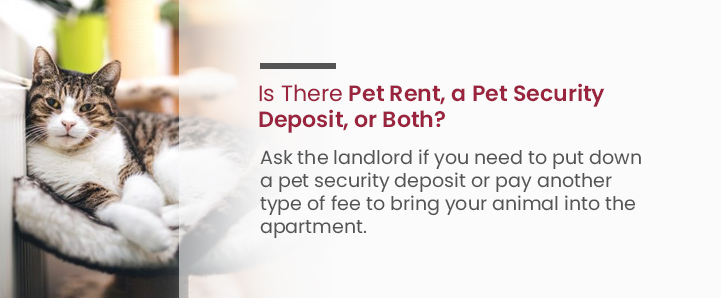 14. Is There Pet Rent, a Pet Security Deposit, or Both?
You may need to pay extra to have your pet share your apartment. Ask the landlord if you need to put down a pet security deposit or pay another type of fee to bring your animal into the apartment. It's also a good idea to find out if you'll need to pay extra pet rent each month. Some management companies or landlords charge a one-time, non-refundable pet fee, others charge a monthly rent for pets, and others ask for an additional deposit, which you may get back when you move out, provided your pet doesn't cause too much damage.
Looking for an Apartment in Pennsylvania? Check out PMI's Rental Offerings
Whether you're on the market for a one or two-bedroom apartment, looking for student housing, want to live in luxury, or are searching for a budget-friendly place, PMI has the home that's right for you. We have apartments available throughout Pennsylvania, in Shippensburg, Camp Hill, Williamsport, Mechanicsburg, Gettysburg, Harrisburg, State College, Lancaster, and more. Check out our current listings and get in touch with us today to learn more about what life is like in our apartment communities.